[18-10-2017] We go to north-west!
Its Barocchio birth day, and we go there to play full of happiness, it would be always beautyfull if more of place like that exist instead of churches... when? night of October 31th, when to make trick-or-treat or better the night of the spirits...
[25-08-2017] EVERYBODY IN HOLLAND!
October 13th we go to Holland to play in ACU (a very very nice squat) A benefit night for helping spread knowledge and action about freedom and equality. There will be food, and there will be friends. Music and drinks. Bring yourself, your passion, and your will to go on. Soon more info...
Here bookface link...
-->>
[03-08-2017] Solidarity to Riottosa Squat!
As LtB we wanted to express our sympathetic solidarity to the boys and girls of the Riottosa in Florence, disgracefully evicted from the usual, tireless repressive soldier (boooooooo). So we wanted to write these two lines to thank them for all the good concerts, the microphones in the mouth, the amplifiers loaded from the window, the vans in the ice and muds, the frozen locks and the pleasant nights, always in the name of Decor :). Thanks also for giving birth to a place that breathed the air of freedom and playfulness. A place where LtB felt just like home. Solidarity to all those who have been victims of this ugly repressive action in Florence as elsewhere!
[12-06-2017] ARE YOU READY??? Once Again... OSTIAPALUSA V is coming...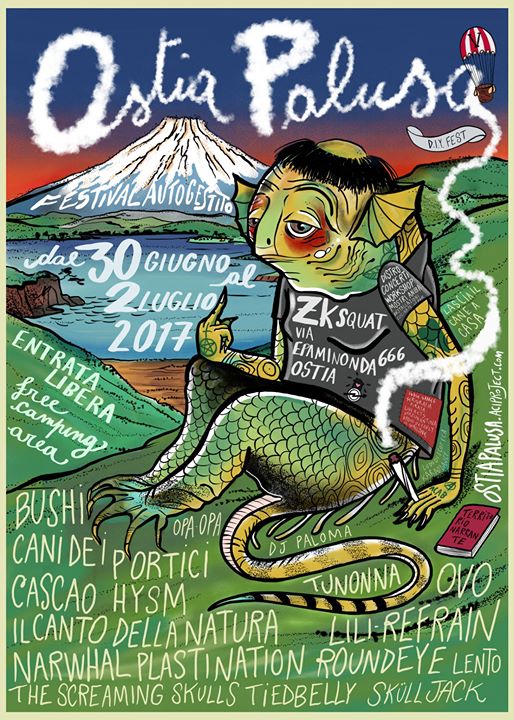 30 JUNE, 1 e 2 JULY 2017!!!
ALL THE INFOS AND MORE HERE:
http://www.ostiapalusa.aciproject.org/



[08-05-2017] We only wait for OstiaPalusa!


But in the meantime we play here and there! So.... warm up the engines, prepare your ears, stand ready, be alert, stay tuned, wait trepidating, be afraid waiting, there is still time, but time does not stop, and above all do not leave what you found... meanwhile many many concerts in this spring full of sun and fantasy... Light the Bob the band that is also listening without headphones



[09-02-2017] PLAY! SO MUCH! AROUND!


A million show upcoming, at home, here and there around Italy and not only..., end of march we'll go to conquer Germany
Who said that play with Light the Bob is only fun and not hard work???



[11-01-2017] BYE PANA!!!


Yesterday Panaghiotis, also called Babuff, or ZetanKanon, left us... no words, only sweetest memories... Ciao Pana!





[24-11-2016] 100RED....!!!


Thursday November 24rd at ZK, we made 100 show event. Happines, suspance, tension and so much more...!!



[26-09-2016] Mannaggia...


We heard the news that one of the most cool beautiful good nice deep exciting energetic fun and exceptional band of the planet officially broke up.
Bye Bye & quot; "Grand Dads!!!!"
Today in their honor we listen to this masterpiece:





[11-08-2016] PICTURE OF THE YEAR!!!




Click to enlarge, and find the secret details of this photo...
When destiny decides it's the right time for the big meetings that most likely will change the history of music if because music has a story that needs to be constantly changed thanks to events like these and sometimes just one picture to decide that the universe is infinitely need large changes in fact, look at that! You do not see that is already completely different with a new sweet and sour taste of victory after an incredible battle ... Makes sense? NO! But it doesn't matter we just had to occupy the space next to the photo for purely aesthetic issues due to the more refined techniques of web developing ...



[06-07-2016] RINGS AND SOUNDS!!!


Ostiapalusa IV is just ended, very little to say about it, those who were there saw, who was not there will listen from the voice who's' been. Simply AMAZING! Being able to pull up a situ-action so complex, dense, full of meanings, in a sea of d.i.y., under the sky autogestione, without coming to any compromise, proving viable a completely different way of living and resist ... we do not add more, we risk to overburn ourself in self-praise that we dont like... anyway ... nice nice nice! :)
Meanwhile Rome warm rogue, human, social and cultural desert, except that ... somewhere you can hear sounds carefree and yet conscientious, they still make a pleasure of d.i.y. and strumming where there boundary between what is above and below, between the inside and outside .... What we wanted to say? We do not know, but we know that we want to remind two beautiful appointments for lovers of pure things, free subscriptions, squatting spaces and times: First the usual appointment with the 17th Festa Rivoltante SUMMEREXTRAVAGANZA, Saturday 9 July 2016 c/o Pratone, via dei ruderi di casa calda (with lots of good bands and the Dj Bob Delight) then FRIDAY July 15th: Bencivenga Occupato presents: Round Eye, an American-British-Italian-Chinese big band who will be the support by our Light the Bob in sailor version ... You should not miss them even if Pelle' knew how to do a lob...



[08-06-2016] ARE YOU READY??? OSTIAPALUSA IV is coming...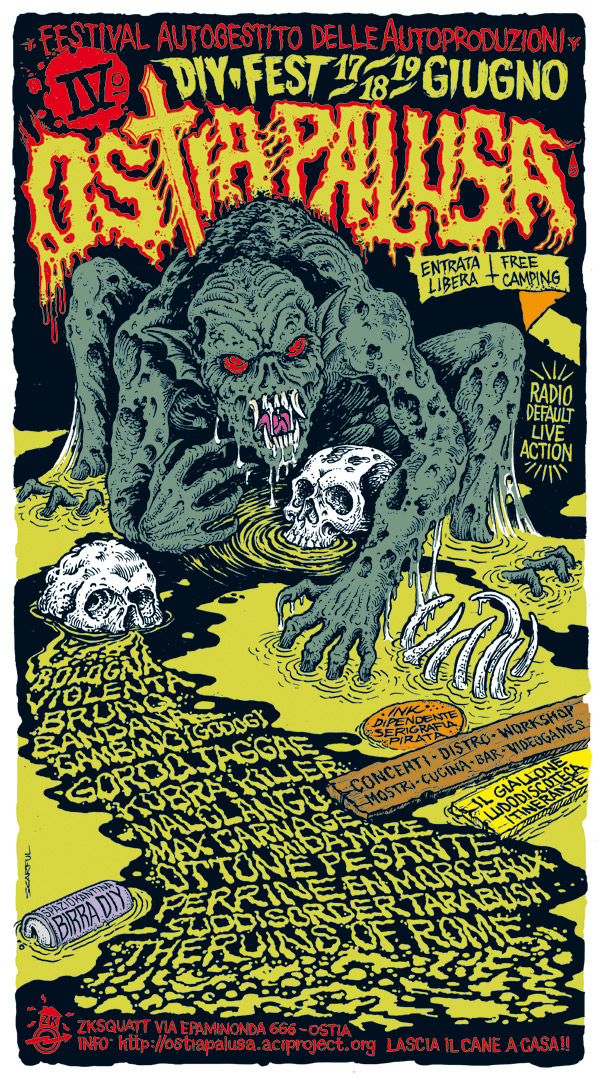 17, 18, 19 JUNE 2016!!!
ALL THE INFOS AND MORE HERE:
http://www.ostiapalusa.aciproject.org/



[10-05-2016] Wtf how many things to say!!!


We will be quick and concise: Friday, May 13th at the Forte Prenestino there will be a special night, and a special benefit for someone special. Here all the details.
The next week we will be mini-provincial tour, begin Friday May 20th with Breath! Fest (info) , then we go to Marino, always province, to drink good wine, and then we play at the "two days" dedicated to the tattoo at the forte prenestino Sunday, May 22th, along with Gorilla Pulp! (info)
But that's not all ... we have two beautiful things we like and we undertake with contenteria: first June 11th we'll play in the second of the two days of the fifth edition of NoLebol festival (this year at ex snia) and then the event of the year, where we do not play, but we jump in headlong: OSTIAPALUSA IV , soon we'll give updates on everything and everyone, from Ostia is all, to you the line ...
Ah! A last but not least thing to say: circolo DalVerme have been closed, we have signed these few lines of solidarity (read here) , there would be talk hours on human social and cultural situation in Rome and more in general in Italy, we live in a time and in a country that deserves to rot in his own misery, except that we live in ... and above all ... #riapriamoildalverme !!!



[03-05-2016] SECRET SUPER SHOW!!!


Tuesday May 3rd at ZK, our most favourite squat ever, we will have the honor and the burden to open the dances at a really super band!
Directly from San Francisco California: Banquet, a mixture of retro hard 70sss energy pure Rock overseas
don't miss it, then do not say that we will not told you!!



[22-04-2016] Yessss Play!!!


Live live live!!!
Check it out!!!



[15-03-2016] And then the day has come...


In which we found ourselves writing of brand new songs ... happyness bass and drums! And Saturday, March 26th we'll play at B-Folk in Centocelle with our brothers in the rehearsal room, the amazing Hounds!



[21-10-2015] Everything is allright


Thursday 22th october we will play in forte prenestino, for an evening that you will 'go back to the evenings when you were returning back to the evenings when we were back in the evenings when we were back... and go to the Pleistocene...



[20-06-2015] Ahi ahi ahi!!!


ATTENTION, DISPLEASING AD! ***
Friends, unfortunately it has been notified by the FortePrenestino people the need to cancel this show. Organizational and logistical problems forced them to ask us to move the date. We're trying to figure out what to do because for us is not easy to change the date.
At this point, the concert is canceled until we can figure out whether and how to move it in time or space.
It's a great disappointment for us but these things happen and it's not anyone's fault !!
Sorry, we will notify any potential news here!!!!
Light the Hound.



[17-06-2015] What a beautifull thing!!!


OstiaPalusa was something really special, and now... incoming shows, thursday 18th june, at Bencivenga Occupato, with the amazing Itaca from Berlin and 10th July at FortePrenestino with marvelous Hound!



[25-05-2015] ARE YOU READY??? OSTIAPALUSA III is coming...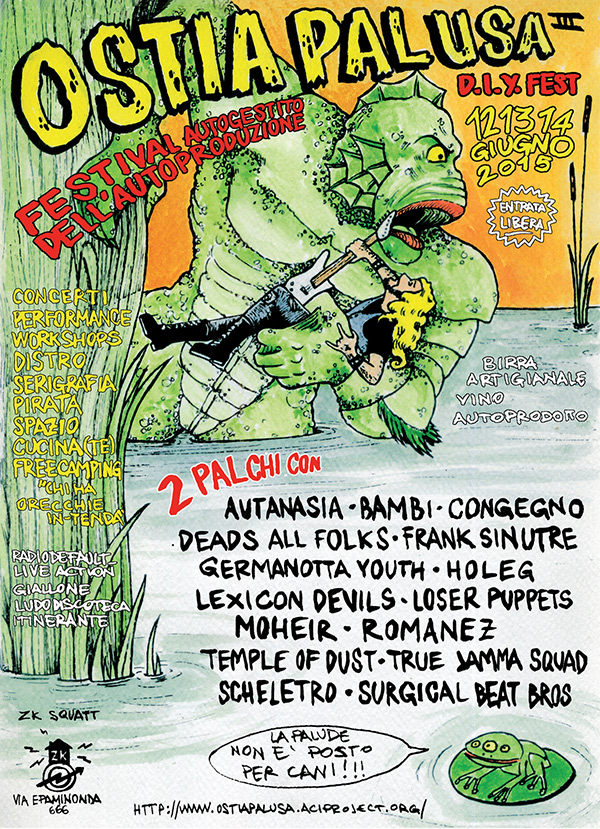 12, 13, 14 JUNE 2015!!!
ALL THE INFOS AND MORE HERE:
http://www.ostiapalusa.aciproject.org/



[15-01-2015] A Birthday party Band!!!


Here we are, the best psychopunkrock band ready to play for every birthday party!!! Friday, january 30, in Torremaura occupata (23 years old) and then Saturday, 28 february, to have fun for the birthday number 24 of L38squat!! What about you? Don't you want to invite us to enance your party??? (service free of charge, available with reservation)



[29-10-2014] Nice, we'll play once again live!


Friday, november 7th, we will play at "FortePrenestino"... in the pub, and we also play at Bencivenga Occupato, with No Chappi and marvelous Itaca (from Berlin)
...AHHHH! WE FORGOT ABOUT THAT... ...SURPRISE......



[01-07-2014] Saturday, july 5th, we will play at "Summerextravaganza n.15"...


Do you come to?



[27-03-2014] A review!!!


April is full of satisfations for the terrible duo and their deformed and soft-hearted sound... believe it or not, someone wrote about us, reviewing our cd sconquassabudella, and this time we did not have to shell out the usual wad of 500 euro as in the past, thank you ... whoever you are, you have a half-dozen beers paid dude! (anyway the production will pay...)
click here to read the review



[12-03-2014] Tuesday, mach 20th, we will play "Dal Verme"...


Do you come to?



[30-01-2014] New Year... New Shows... songs some news some olds...


...finally we play again!!! First in Teramo then at Torre Maura Occupata supporting Biblidea anarchist library in Rome, with No Chappi? Bourgeois and Hound!!! Stay tuned... other thing will be said from stage...



[01-10-2013] Summer is gone......


...working at new songs (with some incredible covers), and october 10th we'll be back on stage at Alvarado with Twister and Donald Thompson, stay tuned for incoming updates!!!



[06-05-2013] Supermazz Bigfuff Out Now!!!



...And now listen the whole record at least once... almost one year of hard-d.i.y. recording for a record that is preparing to climb the charts all over the world!
110% D.i.Y. 135% No Copyright.
Recorded in ZkSquatt between 2012 and 2013.
Except Donna Grigia recorded live in February 2011
Mixed and Mastered by Valerio Maina.
Artwork by Scarful

A special thanks (in strict random order) to:
Ernesto "Nenni", Valerietto "Dody", Luke T. "Coltrane", Amy, Richie, Zora, Panagiotis, Emiliano Gipsy Rufina, No Chappi? Bourgeois! for their contribution.
ZKSquatt. Ateneo Squat. Bencivenga Occupato. L38 Squat. Torremaura Occupata. Forte Prenestino and all occupied spaces, raves, bars, shacks that have invited us or will invite us to play.
Friends and comrades, relatives, dogs and cats and all those who believe that this society deserves to rot in his filth except that we live within. Up for freedom, fuck the digital democracy!

A very special thanx to: Valerio Maina master of sounds. Scarful master of colors.

Download it for free here!...Or listen it here

OLD NEWS