[17-05-2018] We don't play but we'll be there!
The best festival in town is coming...
29,30 JUNE, 1 JULY 2018!!!
ALL THE INFO AND SOMETHING MORE HERE:
http://www.ostiapalusa.aciproject.org/
[19-01-2018] A good band for all the birthdays!
«In any musicophonic initiative IM that is sufficiently expressive to contain a complete performance of Light the Bob, there is at least one of theirs song X that, if IM is consistent, then neither X nor its negation !X are distinguishable from each other to the ear of a hypothetical listener IA, who is in a state of mental motion apparent retrograde convonvolution, relative to the linear speed of execution of Y.»
Light the Bob will perform live demonstrations of the present and other fantastic mathematical theorems just for you at the 26th Birthday of Torre Maura Squat on 19 January 2018. Numerous internationally renowned scientists will participate in the congress.
[18-10-2017] We go to north-west!
Its Barocchio birth day, and we go there to play full of happiness, it would be always beautyfull if more of place like that exist instead of churches... when? night of October 31th, when to make trick-or-treat or better the night of the spirits...
[25-08-2017] EVERYBODY IN HOLLAND!
October 13th we go to Holland to play in ACU (a very very nice squat) A benefit night for helping spread knowledge and action about freedom and equality. There will be food, and there will be friends. Music and drinks. Bring yourself, your passion, and your will to go on. Soon more info...
Here bookface link...
-->>
[03-08-2017] Solidarity to Riottosa Squat!
As LtB we wanted to express our sympathetic solidarity to the boys and girls of the Riottosa in Florence, disgracefully evicted from the usual, tireless repressive soldier (boooooooo). So we wanted to write these two lines to thank them for all the good concerts, the microphones in the mouth, the amplifiers loaded from the window, the vans in the ice and muds, the frozen locks and the pleasant nights, always in the name of Decor :). Thanks also for giving birth to a place that breathed the air of freedom and playfulness. A place where LtB felt just like home. Solidarity to all those who have been victims of this ugly repressive action in Florence as elsewhere!
[12-06-2017] ARE YOU READY??? Once Again... OSTIAPALUSA V is coming...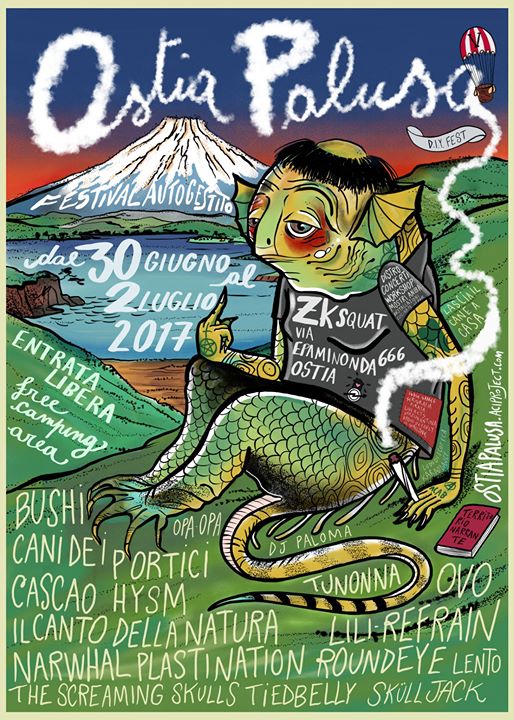 30 JUNE, 1 e 2 JULY 2017!!!
ALL THE INFOS AND MORE HERE:
http://www.ostiapalusa.aciproject.org/



[08-05-2017] We only wait for OstiaPalusa!


But in the meantime we play here and there! So.... warm up the engines, prepare your ears, stand ready, be alert, stay tuned, wait trepidating, be afraid waiting, there is still time, but time does not stop, and above all do not leave what you found... meanwhile many many concerts in this spring full of sun and fantasy... Light the Bob the band that is also listening without headphones



[09-02-2017] PLAY! SO MUCH! AROUND!


A million show upcoming, at home, here and there around Italy and not only..., end of march we'll go to conquer Germany
Who said that play with Light the Bob is only fun and not hard work???



[11-01-2017] BYE PANA!!!


Yesterday Panaghiotis, also called Babuff, or ZetanKanon, left us... no words, only sweetest memories... Ciao Pana!





[24-11-2016] 100RED....!!!


Thursday November 24rd at ZK, we made 100 show event. Happines, suspance, tension and so much more...!!

OLD NEWS